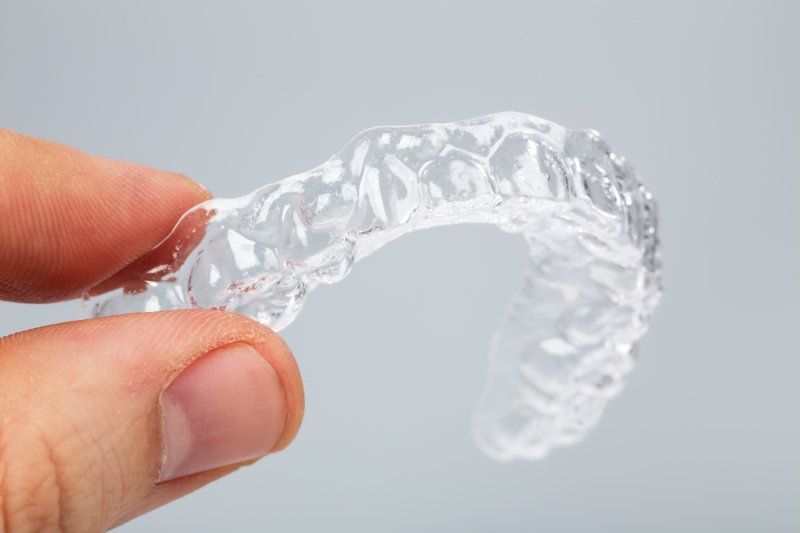 If you've had misaligned teeth for a long time, you may be looking for ways to make them straighter so you can feel more confident showing your smile off to friends and family. Even if you've settled on the idea of using metal braces to straighten teeth because you don't mind their appearance, it's important to keep in mind that there are far more benefits of Invisalign in Mangum than you might have realized. In fact, these benefits aren't even solely tied to esthetics. Learn what they are from a dentist today!
Clear Aligners are Removable, Not Bonded
The clear aligners used in Invisalign are not intended to be bonded directly to teeth like metal braces are. In fact, they need to be removable so treatment can effectively progress. Rather than having a bunch of brackets semi-permanently bonded to teeth, you'll wear aligners that are removed and replaced to shift teeth into their straighter positions.
Because of this, you won't need to make dramatic changes to your diet just to accommodate an orthodontic treatment. Simply take out your aligners, enjoy your meal, practice oral care, and put them back in! Whether you're an adult or a parent with a teenager who's undergoing treatment, living with clear aligners is a much more convenient experience.
There's No Archwire Required
Clear aligners don't make use of an archwire either. With traditional braces, an archwire is threaded through each of the bonded brackets, then tightened at follow-up appointments to effectively shift teeth into their straighter positions. As a result, routine adjustments from an orthodontist are needed every four weeks on average.
Since clear aligners don't make use of an archwire and only use custom-made oral appliances to shift teeth, you can expect fewer necessary checkups from a dentist over the course of treatment. On average, appointments are done every six weeks or so, saving you more time as a result.
Oral Care is Substantially Easier
Even if you were to get used to how metal braces looked, that doesn't mean you'll be able to go right back to the same habits you had before you had them placed. The best example of this is your oral care, which can become a lot more difficult when you have braces. Not only is it harder to keep teeth white with braces, but you'll need to purchase an interdental toothbrush just to keep all the hardware thoroughly clean.
Invisalign's clear aligners allow you the same access to your smile for cleaning that you would have before you even started treatment. Not only is keeping your smile clean easy with Invisalign, but keeping the aligners themselves fresh and clear is as simple as placing them in a cleansing bath while you brush and floss!
You don't have to sacrifice your daily habits just to achieve a straighter smile. Get in touch with a dentist today to see if Invisalign in Mangum is right for you!
About 333 Dental Care
Not only is Dr. Lively prepared to make your future dental visits as personalized and comfortable as possible, but he actually holds personal experience in completing orthodontic care himself! While he wore metal braces as a teenager, he and his colleague Dr. Hand are more than happy to offer Invisalign treatment for those looking for an alternative to traditional braces. To schedule an appointment, you can contact him through his website.