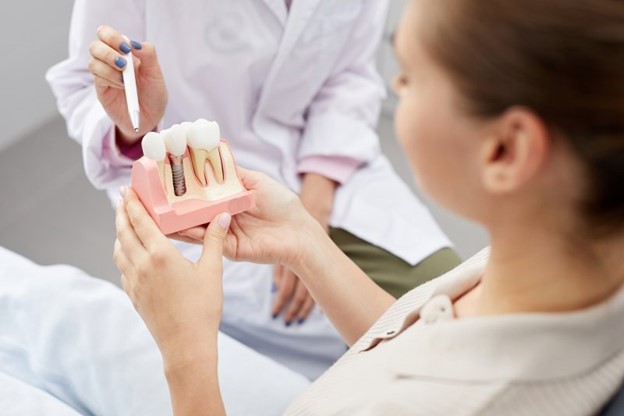 Functioning as synthetic tooth roots, dental implants provide a robust and enduring answer for filling the gaps left by missing teeth. With adequate maintenance, they grant substantial biting strength that can last for extensive periods. Despite natural tooth enamel being the most resilient substance in the human body, it remains susceptible to harm. Astonishingly, dental implants can outperform the strength of natural enamel. Continue reading to uncover the factors contributing to their extraordinary durability.
Are Dental Implants Stronger Than Your Natural Teeth?
Dental implants can endure for more than 30 years, even a lifetime, free from cracking, breaking, and impervious to tooth decay. However, directly equating them to natural teeth isn't a simple task. Comparing them isn't a simple yes or no. While dental implants are strong, they can still crack you're your natural teeth.
Yet, the probability of this happening depends on the specific part of the implant. Offering a thorough explanation demands a deep grasp of how dental implants operate and engage with their surroundings.
What Parts of Dental Implants Are Strongest?
Contemporary dental implants comprise three essential parts: the post, the abutment, and the crown. Of these, the titanium post is the strongest. Through osseointegration, it firmly merges with the jawbone, delivering remarkable strength and stability.
Next is the titanium abutment, which is also very strong and resistant to damage. Together, these parts form a solid base for dental implants, providing lasting support and function.
The crown of a dental implant, often crafted from porcelain, can closely imitate the strength of a real tooth. However, it can still be harmed by too much pressure or consistent teeth grinding. Taking good care and preventing excessive force is vital to keep the implant crown strong and intact for a long time.
How to Keep Your Dental Implant
For the lasting success of your dental implants, proper care is vital, even though their strength exceeds that of your natural teeth. Follow these steps to achieve this:
Maintain good oral hygiene – Brush your teeth twice daily and floss every night.
Avoid chewing on hard objects – Refrain from biting down on hard foods or objects like ice or hard candy to prevent damage to the crown or implant.
Use a mouthguard – Prevent implant and adjacent teeth damage by addressing teeth grinding or jaw clenching (bruxism) with a mouthguard.
Regular dental visits – Biannual checkups and cleanings are crucial to maintain the implant's health.
Quit smoking – Avoiding tobacco products reduces the risk of implant failure.
Keep your dentist informed – Promptly update your dental professional about any changes or issues with your implant to prevent further damage.
About Our Practice
In Mangum and neighboring communities, the committed team at 333 Dental Care offers all-encompassing dental services. We specialize in dental implants for smile enhancement and stability. Through a blend of advanced technology and empathetic care, our skilled professionals offer tailored treatment. With extensive experience in delivering top-notch dental care, our specialists guarantee the finest quality. For more information about dental implants or to set up an appointment, contact 333 Dental Care at (580) 782-2552 or visit their website.