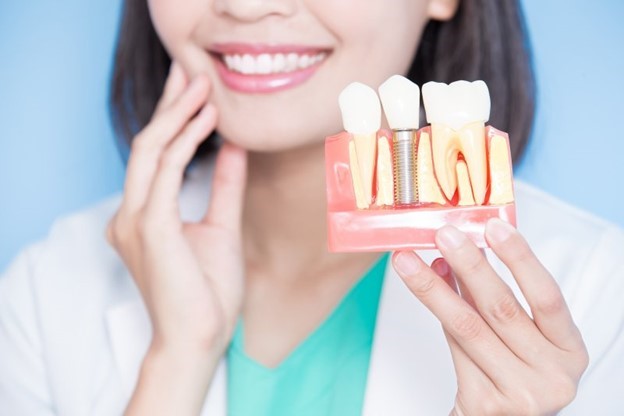 Dental implants are a revolutionary approach in restorative dentistry. These titanium posts, which are carefully inserted into the jawbone, serve as artificial tooth roots, providing a strong foundation for replacement teeth. With their remarkable array of advantages and their ability to produce aesthetically pleasing results, dental implants have garnered significant recognition. Continue reading on as we discuss the remarkable world of dental implants and unveil the numerous benefits that they offer.
#1: They Restore Your Bite
With the precise integration of a titanium rod into the jawbone and the secure attachment of a crown, dental implants provide an unparalleled foundation. This results in a significantly stronger bite force compared to dentures or bridges.
Extensive research has demonstrated that dental implants can restore a minimum of 80% of the patient's original bite power, surpassing the bite restoration typically achieved by dentures, which typically hover around 30%. This remarkable finding underscores the superior functionality and stability offered by dental implants in restoring biting capabilities.
#2: They Can Help You Maintain a Healthy Jaw
During periods of limited nutrient availability, the body adopts a resource allocation priority system. Unfortunately, when a tooth is lost, the jawbone may receive reduced nutrient supply, indicating a lower level of significance and potentially leading to gradual bone loss in that region. Astonishingly, within the first year, an approximate 25% loss in jawbone mass can be anticipated.
On the other hand, dental implants offer vital stimulation to the jawbone, promoting its strength and overall health. However, if a considerable amount of time has elapsed since the tooth loss, a bone graft might be necessary to ensure proper integration of the implants.
#3: They are Very Reliable
Dental implants demonstrate an exceptional success rate of over 95% when properly maintained, surpassing other tooth replacement options in terms of longevity. With diligent care, dental implants can retain their functionality and aesthetic appeal for up to 20 years, and in many cases, even a lifetime.
#4: They Give You a Realistic Smile
Dental implants are meticulously designed to mimic the appearance and texture of natural teeth. The dental crown, which is attached to the implant, can be customized to precisely match the color and shape of your existing teeth, resulting in a flawless smile.
Implants seamlessly blend with your natural teeth, creating a smile that is indistinguishable from the real thing. With these exceptional replacement tooth roots, you can confidently enjoy the beauty of a naturally appealing smile.
In conclusion, dental implants present a multitude of benefits as a solution for replacing missing teeth. With their sturdy foundation, capacity to restore bite force, promotion of jawbone health, long-lasting nature, and seamless integration with natural teeth, they enable you to regain and maintain confidence in your smile for years to come.
About the Practice
If you're considering dental implants following a tooth extraction, 333 Dental Care is ready to provide the assistance you need. Their team of four highly experienced dentists is dedicated to helping you achieve a beautiful smile. With a specialization in dental implants and a commitment to delivering your desired results, their expertise is unmatched. Backed by their extensive knowledge and skill in oral health, their devoted team is determined to help patients maintain their radiant smiles. To learn more about dental implants or to schedule an appointment with 333 Dental Care, visit their website or contact them at (580) 782-2552.