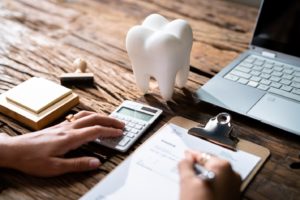 When it comes to dental insurance plans, there can be a lot of small details and terms that are confusing and potentially easy to miss—and if you're thinking about committing to coverage to get your smile the affordable care it deserves, you might have some specific questions regarding deductibles. These figures are often an integral part of any insurance plan, and the more you know about yours, the easier it is to save on care down the road. Keep reading to learn more.
Deductibles: The Basics
A dental insurance deductible is an amount you must pay out of pocket each year before your plan starts to kick in and pay for covered dental treatment costs. It's often a specific dollar amount; for example, if your deductible is $100, your plan will begin to pay for benefits once you've spent $100 of your own money on related dental care expenses. Your deductible amount resets once every 12 months, and most plans follow the calendar year—but you should always check with your provider to confirm the exact dates.
The Purpose of Deductibles
Deductibles primarily benefit the insurance company in that they force patients to pay for care first before they're required to step in and help. This can sometimes discourage patients from undergoing potentially costly care that the insurance company would have to help pay for. Also, if the patient ends up not meeting their deductible, the amount is often too low for the insurance company to even bother with it.
Why Dental Insurance Is Worth It
Even though deductibles might seem like confusing obstacles that interfere with your care, in reality, the benefits of dental insurance greatly outweigh their minor, often irrelevant, inconvenience. For instance, once the deductible is met, the plan allows you to enjoy lower out-of-pocket costs, affordable preventive care, and the many priceless benefits of being in great oral health.
This means that if you've already paid your deductible and you need dental care in the immediate future, make that appointment sooner rather than later—your wallet and smile will thank you!
About the Practice
The team at 333 Dental Care is thrilled to serve the dental needs of patients and families in the Mangum, OK community. They offer a wide range of preventive, cosmetic, and restorative options that are certain to have your smile looking and feeling its best. If you have any questions about the article or how you can utilize your insurance to save on dental care, feel free to contact the practice online or over the phone for further information or assistance: (580) 782-2552.