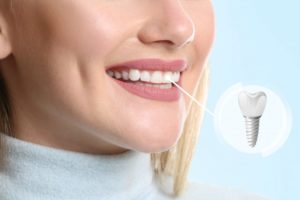 Dental implants are considered the gold standard of tooth-loss solutions. In addition to being incredibly lifelike, they are also a long-lasting option for missing teeth. Their durability comes from the fact that they replace the entire tooth structure, from root to crown. But can they even take the place of your front teeth? Read on to discover if dental implants are the way to go for a complete smile for even your most visible pearly whites.
Dental Implants & Your Front Teeth
Dental implants can be used to replace any tooth, no matter where it's located in your mouth! The process involves biocompatible steel posts being inserted into your jaw. Since they easily integrate with human tissues and bones, dental implants begin to bond with your jawbone and become one with your mouth. They provide a solid foundation for any of your teeth, including your front ones.
After osseointegration has occurred, a restoration (such as a dental crown or bridge) will be placed once you're done healing. Now you are ready to enjoy your complete, long-lasting, and natural-looking smile!
What is Required to Be Eligible for Dental Implants?
There are several factors that need to be in order before beginning the process of getting dental implants to complete any part of your grin. These include:
Excellent overall health: Placing dental implants is a surgical procedure, so it's important that your health is in overall good shape to undergo minor surgery.
No oral health issues: Cavities and gum disease can increase your risk of dental implant failure. Your dentist will be sure that any oral health issues are addressed before the process to replace your teeth begins.
Adequate jawbone density: It's essential that your jawbone is strong enough to support dental implants for your treatment to be successful. Bone grafts are a possible treatment in order to prepare it for the permanence of your implants.
4 Benefits of Dental Implants
So now that you are aware that dental implants can replace any missing teeth, including your fronts ones, you may wonder about the benefits of this restoration. Some of the positive factors of dental implants include:
A natural-looking smile – Dental implants are custom color-matched to the rest of your teeth. The restorations will also be made from a material that replicates the look of tooth enamel. They will seamlessly blend in with the rest of your beam.
A youthful face – The bones in your jaw begin to erode due to lack of stimulation when you are missing teeth. Dental implants help keep your jawbone healthy, as well as prevent the changes in facial shape that comes with gaps in your smile.
Easier eating – Since dental implants are permanent and stable, you can eat almost anything without any problems! Of course, you want to mainly choose tooth-healthy options to promote a healthy smile, such as lean meats, fresh fruits and veggies, fish, nuts, and dairy products.
A smile that lasts – Implants can last your entire lifetime with proper care. This includes brushing twice per day, flossing nightly, eating well, avoiding bad oral habits like smoking, and visiting your dentist twice a year.
Dental implants are one of the best solutions for gaps in your smile…including your front teeth! With this helpful information, you are well on your way to experiencing the many benefits that they offer for years to come.
About the Author
Dr. Dustin Lively has been serving Magnum and surrounding communities for 25 years. With over 250 reviews with a 5-star rating on Google, his goal is to help you build a healthier and happier smile! To achieve that smile, he provides a full range of comprehensive dental services, including restorative care like dental implants. To schedule an appointment, contact him through his website or call (580) 563-6048.