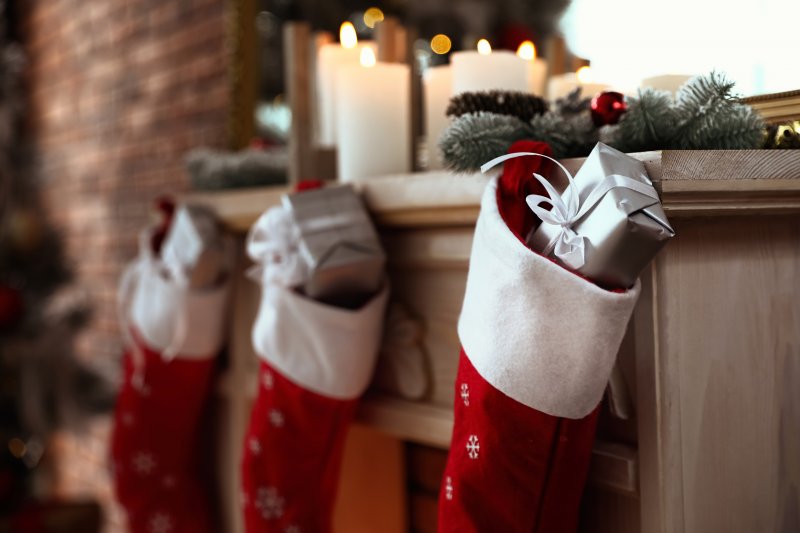 It just doesn't feel like the holidays until you hang up stockings on the mantle. However, the things that usually fill those stockings, like caramel and toffee, can be really damaging to your children's teeth. That can make it hard to engage in this holiday tradition and still protect your family's oral health. Thankfully, it's far from impossible. There are plenty of gift ideas that fit perfectly in your children's stockings and that will help them to prevent oral health problems. Here are just a few.
Tooth-healthy Snacks
It's nice to give your kids something to snack on while they're opening their presents, but sticky and hard candies aren't the best way to go. The sugars in these sweets coat your children's mouths and feed the bacteria that live there. These bacteria secrete acids that corrode enamel, which is the primary cause of tooth decay.
You should give your children candies that aren't as likely to get stuck in their teeth. Chocolate, for example, is a delicious holiday treat that's much less likely to lead to cavities. It's melty enough that, once your kids are finished eating, the sugar will wash away quickly.
Tasty Toothpaste and Floss
Speaking of tasty treats, one way to get your kids to brush their teeth is to give them dental hygiene products with flavors they can enjoy. Mint isn't usually kids' cup of tea, which can present an additional barrier when you're trying to get them to brush or floss. Fruitier flavors might be more appealing and can be a way to reinforce good dental hygiene habits.
Electric Toothbrush
Studies show electric toothbrushes are significantly better than traditional brushes at removing plaque buildup from your children's teeth, but their benefits don't end there—many electric toothbrushes are designed specifically to make brushing teeth fun. They're customized with your kids' favorite characters, they can play music while they brush, and some of them even connect to apps that make brushing into a game.
As you can see, there are plenty of ways to fill your kids' stockings with gifts that will better their oral health. You should be able to enjoy the holidays with your family without causing headaches for their dentist.
About the Author
Dr. Dustin C. Lively is a dentist who aims to be better at his craft every day than he was before. He loves being able to share the results of that progress with his community, so they can improve their own lives as well. Dr. Lively is a graduate of the University of Oklahoma College of Dentistry. He's also received additional education from the Misch Implant Institute and the Pierre Fauchard Academy since graduating, which has kept him up to date on the latest in oral medicine. If you have any questions about taking care of your teeth this holiday season, he can be reached at his website or by phone at (580) 782-2552.