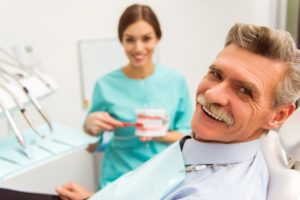 You couldn't be happier to have finally replaced your missing teeth with a beautiful denture that looks just like the real thing. Naturally, you'll want to learn how to take good care of it to ensure it lasts as long as possible. This includes cleaning it regularly, but also preventing it from falling out of your mouth and breaking. One way to do this is by wearing denture adhesive. While you shouldn't have to wear it all of the time, it helps to know which type of denture adhesive is the best for adding stability to your smile. Keep reading to learn about the differences, when you should wear adhesive, and when you should consider refitting your denture altogether.
When Should I Use Denture Adhesive?
Dentures in Mangum should fit well enough that adhesive is not necessary most of the time. In fact, dentists typically only recommend wearing denture adhesive if you:
Are taking cold or flu medications, as they can contribute to dry mouth and make your denture less secure.
Have had your teeth extracted recently (the jawbone can take almost a year to restructure, so your denture might not fit properly during this period).
Perform or speak for a living (musicians, public speakers, etc. may require some extra stability).
Have previously suffered from a stroke.
Have certain neurological disabilities.
Types of Denture Adhesives
The four main types of denture adhesives are:
Strips
Powder
Cream
Zinc-free
If your denture already fits well but you're just looking for a slight boost in security, then powder and strips may be ideal, as they're thinner and can provide stability in the specific areas where you need it. People with a looser denture may prefer cream because of the stronger hold it provides. If you're concerned about the possibility of overexposure to zinc, many brands make zinc-free adhesives for better peace of mind.
Should I Consider Relining or Replacing My Denture?
Denture adhesive can be useful, they're not usually a long-term solution. If your denture is still slipping despite wearing adhesive, it might be time to have your denture relined. Your dentist can determine whether the prosthetic needs to be adjusted, or if your jawbone has changed so much after tooth loss that you need a new denture entirely. If that's the case, they might recommend anchoring your denture onto dental implants so that adhesive isn't even needed.
Are you still not quite sure which type of denture adhesive is right for you? Don't worry; your dentist would be more than happy to give you guidance at your next appointment. They'll do whatever they can to make sure your new smile is as reliable and functional as possible!
About the Authors
At 333 Dental Care, Dr. Dustin Lively and Dr. Brittany Hand provide compassionate, personalized care to families in Mangum, OK. Their focus on patient comfort and a faith-based approach to dentistry leave their patients feeling more than satisfied. They offer full, partial, and even implant dentures using the most lifelike, durable materials. If you'd like them to help you settle the denture adhesive debate, you can contact their practice at 580-782-2552.