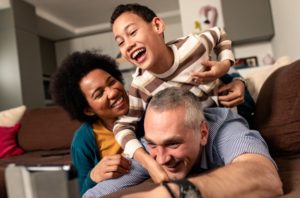 There are several different types of dentists, including specialists and general dentists. If you're new to Hobart or Altus and are looking for a professional to treat all of your loved ones, look no further than your trusted Elk City dentist, Dr. Dustin Lively. At 333 Dental Care, we provide comprehensive dentistry for patients of all ages, making us a one-stop-shop to optimize all of your loved ones' oral health. Read on to find out five benefits from choosing a family dentist.
Simplify Your Family's Dental Care
Instead of needing to travel from specialist-to-specialist, you can visit a family dentist that can provide treatment for everybody in your household, including children. This makes it easier to consolidate dental appointments, preventing you needing to schedule appointments on different days with different providers. Instead, you'll be able to have everybody come in for a checkup and cleaning on the same day, clearing your busy schedule and simplifying your family's health.
Get Comprehensive Dentistry
Family dentists accommodate patients of all ages, from children to grandparents. Because of this, they offer comprehensive dental treatments, including every service from gum disease treatment to sleep apnea therapy, all under one roof. This will provide you with peace-of-mind that no matter who your Altus dentist is treating in your family, they'll receive the high-quality dental treatments they deserve.
Develop a Great Relationship With Your Dental Team
One great benefit about visiting a family dentist is that throughout your children's entire lives, they'll be able to count on visiting one provider that they can trust and who they feel comfortable with. Each member of your family will grow to become familiar with our dental staff and their dentists, eliminating any hesitations and fears when it comes to visiting our office. Once they get older, you can trust that they're in good hands when you drop them off for their appointments.
Easily Keep Track of Your Dental History
Pediatric dentists only treat children up until they become a teen. This means that you'll eventually need to have all of their dental history transferred to another practice, which could result in vital information being lost or misplaced. Instead of having to worry about this, you can choose a family dentist, like Dr. Lively, who will keep your dental chart in the same place year after year, and be up-to-date on all of your treatments and dental problems that you face.
Set a Great Example For Your Children
If you take your child to a pediatric dentist, they'll likely never have the opportunity to see you in the dental chair alongside them. This is a missed opportunity to make a positive and vital message to your child about the importance of keeping up with their dental health. By visiting a family dentist, the whole family can have their teeth cleaned together, which is a priceless comfort.
If you don't already see a family dentist, there's no better time to make the switch than right now. Dr. Lively and Dr. Hand are accepting new patients of all ages, and ready to provide your family with care you can trust in. Finding the perfect dentist for your family starts with contacting 333 Dental Care and scheduling an appointment today.
About the Author
Dr. Dustin Lively is passionate about helping families optimize their oral health and providing them with the tools and resources necessary to preserve their natural pearly whites for a lifetime. He regularly takes continuing education courses so he can best serve the members of his community in Magnum, OK. For questions or to schedule a checkup and cleaning for your family, visit 333 Dental Care's website or call 580-782-2552.