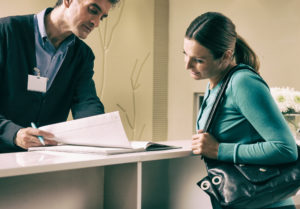 The 2019 calendar is running out of days fast, which means there are just a few months left to use your remaining dental insurance benefits! While many people do not know this, dental insurance benefits expire at the end of the year and do not roll over. Don't let the hard-earned benefits that you have paid for go unused! Here is some helpful information from a dentist in Magnum on dental insurance and how to maximize your 2019 coverage.
What Does My Dental Insurance Cover?
While medical insurance is often utilized to help reduce treatment costs in times of emergencies or accidents, dental insurance is designed to encourage preventive dental care. For this reason, most dental insurance coverage looks like this:
100% coverage for preventive care, such as biannual checkups, X-rays and professional cleanings.
70%-80% coverage for minor restorative care, such as fillings, extractions, etc.
50% coverage for major restorative care, such as crowns, dentures, etc.
Schedule a 2nd Dental Checkup
One way to take maximize your dental insurance benefits before the end of the year is to schedule a second dental checkup. The American Dental Association recommends biannual dental exams and cleanings to maintain a healthy smile and prevent minor problems from going untreated. As noted above, most dental insurance plans are designed to cover essential preventive care – so your 2nd dental checkup will likely cost you $0 out of pocket!
Use It or Lose It
In addition to scheduling a 2nd dental checkup, you may want to consider getting – or at least starting – restorative treatment before the end of the year in order to reach your annual maximum.
An annual maximum is the highest dollar amount an insurance provider will pay for dental care in a calendar year. If you don't reach your annual maximum, any leftover benefit amount will expire when your plan resets on January 1st!
Don't let the dental insurance benefits you have already paid for go up in smoke! Whether you have $25 or $250 left on your annual maximum, act now to take advantage of your remaining benefits before the end of the year.
Future Could Bring Change
One final reason to act now and use your remaining dental benefits is that your dental insurance plan today may not be your plan of tomorrow. Dental insurance companies change their policies frequently, with new premiums, deductibles and annual maximums usually applied at the beginning of the year. If you wait until 2020 to start dental treatment, you could potentially end up paying more for the same treatment you could get for less now.
Ring in the new year with a winning smile and a full wallet! Act now to maximize your remaining 2019 dental insurance benefits with the help of a dentist in Magnum.
About the Author
Dr. Dustin Lively has over 20 years of experience providing quality dental care to residents of his hometown. The Magnum native and proud alum of the University of Oklahoma College of Dentistry is in-network with most major insurance providers. Patients old and new can reach Dr. Lively by visiting the 333 Dental Care website or calling 580-782-2552.