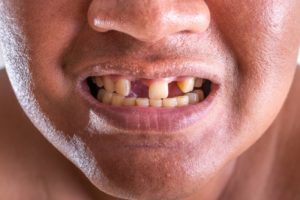 If you have a missing tooth, you might be wondering if you should get it replaced, especially if it's in the back of your mouth, where no one will notice it. But did you know that if you have missing teeth, it can negatively impact your oral health? Believe it or not, a lot of bad things can happen if you don't replace a missing tooth. Read on to learn 4 of them.
1. Your Remaining Teeth Might Shift
When you have all your teeth, they do a great job of keeping each other all neatly lined up. However, when you're missing teeth, the surrounding ones try and fill in the gap themselves by drifting into it. This could lead to a change in your bite, increasing your risk of tooth decay and gum disease.
2. You May Look Older
Every part of your face is connected, so if you're missing a tooth, even one located in the back of your mouth, it can change your entire facial structure. Missing a tooth makes the jawbone in that area start to shrink because it's no longer being stimulated by the tooth root. When your jawbone shrinks, it makes part of your face sag, so you look much older than you actually are. To keep looking youthful, it's best to replace your missing tooth as soon as possible.
3. Your Mental Health Could Be Affected
With a missing tooth, it can be difficult to chew and enjoy your favorite snacks, which can lead to irritation and a depressed mood after a while. It may make it harder to pronounce certain words, resulting in a self-confidence drop. If your missing tooth is in the front of your mouth, this is even more true. Having a gap in your grin can negatively affect your self-esteem. You might be afraid to smile or get in the habit of covering your mouth all the time.
4. You Might Get TMJ Disorder
Your temporomandibular joints, or TMJ, are the joints just under your ear that connect your jaws to the rest of your skull. They help you chew, speak, and rotate your jaw. Failing to replace a tooth can cause the delicate structure of your face and jaw to change, which may result in serious pain to that joint that makes eating and talking uncomfortable.
Although it might not seem like a big deal at first, it's massively important to replace missing teeth as soon as you can. It can affect not only your oral health, but your mental health as well.
About the Author
Dr. Dustin Lively is a Mangum native who has been providing comprehensive dental care to the community for more than two decades. He achieved his dental degree at the University of Oklahoma College of Dentistry. His practice offers bridges, full and partial dentures, and dental implants to replace your missing teeth. To learn more about your options, contact the doctor here or by calling (580) 782-2552.